Wolfenstein 3D: source

This is a remake under the Source engine the game hit Wolfenstein 3D. This is not a simple port of the game, but a rebuild of design of levels and gameplay.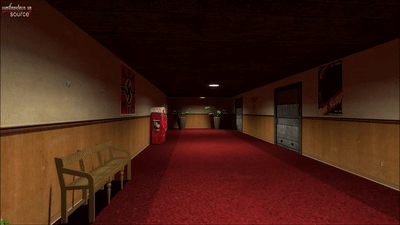 Background of game menu
Respect for levels; the corridors, rooms and secrets are preserved with their respective theme (color),
Improved levels; additions of room elements, such as objects, furniture and posters,
Representation of enemies; find the guard (brown), the lieutenant (blue) and the SS soldiers (white) with their weapons,
Respect for the weapons of the time; find the parachutist knife (knife), the Luger (pistol), the MP 40 (machinegun) and the MP 44 (StG 44) (chaingun),
The Boss Hitler with a unique difficulty level, use of grenade,
Soundtrack of original game elements included in high quality (HD) version,
Music tape from remixed versions of the original tracks,
The dogs have been replaced by guards,
No points, but the treasures allow you to have a protection (shield),
Customization of the interface for the nostalgia of the original game,
And several other unique features.
Downloads
For testing the Mod before the release, please contact me on my Discord.
Installation
* In theory, you only need Source SDK Base 2013 SinglePlayer and Half-Life 2 (or any other game build with Source Engine) installed for running this mod.
Advancement
For now, 60% is completed, about 0 of 10 maps of the jeu.
Level
M1-1
M1-2
M1-3
M1-4
M1-5
M1-6
M1-7
M1-8
M1-9
M1-10
Mapping
Wall, floor
100%
100%
100%
100%
100%
100%
100%
100%
95%
90%
Textures
Textures of rooms, overlays
90%
90%
90%
80%
75%
60%
60%
50%
80%
50%
Passages
Doors, secrets, level transition
95%
95%
90%
90%
85%
85%
90%
85%
95%
0%
Lighting & Sounds
Light, sounds and ambient
100%
100%
95%
80%
70%
95%
95%
0%
90%
0%
Objects
Furnitures, bonus, secrets
90%
90%
50%
50%
0%
0%
0%
0%
70%
0%
Test
Gameplay and compare
0%
0%
0%
0%
0%
0%
0%
0%
30%
0%
Completed
79%
79%
71%
67%
55%
57%
58%
39%
77%
23%